Freedom's King Odin of White Valley (Odin)
Freedom's King Odin of White Valley (Odin)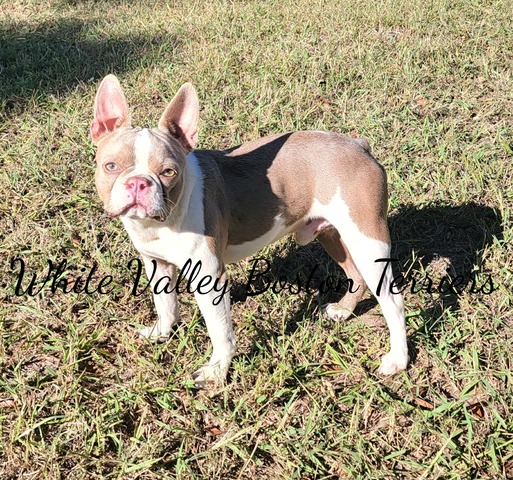 Sex:

Male

Date of Birth:

July 29th, 2021
Odin is docile and willing to please. Smart, learns very quickly, sweet and loving, all-around just an easy-going little guy! Odin is laid back and more of a couch potato. But he does get the occasional zoomies when he's playing and gets excited.
Odin has a great solid structure. Perfectly squared, beautifully balanced. Though he's broad, he's light on his feet and moves gracefully with a fluent gait.
Overall Odin is a wonderful example of a Boston Terrier in type and temperament, with an awesome lilac coat!
STUD SERVICES
We will be offering stud services to AKC approved females only. Odin is an excellent natural breeder. He produces some beautiful, healthy babies, female heavy litters so far. He carries tri, splash and masking.
Females must have current vaccinations, recent health exam/clear fecal and negative Brucellosis testing before breeding.
Stud fee is $1000, due up front at the time of service.